A well-trained dog is a happy dog
TRAINED & TEMPERED
Hungry Hound is pleased to offer basic obedience training classes for puppies as well as older dogs.
We keep our classes small and intimate and only use positive reinforcement.
Our certified, experienced, and highly accredited dog trainer will work with you and your pet to ensure success in mastering the skills. Our trainer tailors the curriculum for each dog in the class, so no dog will be left behind.
Basic Course (5 weeks)
Covers sit, stay, down, come, walking on a leash, manners, and behavioral issues.
Call us at (219) 365-5543 to schedule your pup for class!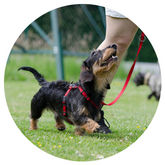 Beginner Training
Our obedience system is based on fun engagements that build focus. A great introductory class that teaches simple cues like sit, come and stay.

Puppy Training
Help your puppy to develop critical social and obedience skills, plus you can get all your important puppy questions answered!
Read what St John customers are saying about Hungry Hound
We love our customers from Saint John, Hobart, Merrillville, Cook, Brunswick, Kreitzburg, Lake Hills, Rolling Hill Estates, Schererville, New Elliott, Dyer & Hartsdale areas. Thank you so much for supporting your local pet food and supply store.
Come visit our pet supply store in St John, IN specializing in quality food, treats, and supplies for cats and dogs.